General: Load carrying yarn covered with color coded protection sleeve. Roundsling of polyester can be delivered up to WLL 300 tons.
Chemical resistance: Resistant to most acids, but not strong alkalizes.
Stretch with working load: 2-3%.
Length tolerance: Nominal length (EWL) ±2%.

Material: Polyester.
Marking: According to standard, CE-marked
Temperature range: Between -40°C - +100°C.
Standard: EN 1492-2
Note: According to EN 1492-2:2000+A1:2008: D.3.6: Slings should be protected from edges, friction and abrasion, whether from the load or the lifting appliance. Where reinforcements and protection against damage from edges and/or abrasion is supplied as part of the sling, this should be correctly positioned. It may be necessary to supplement this with additional protection.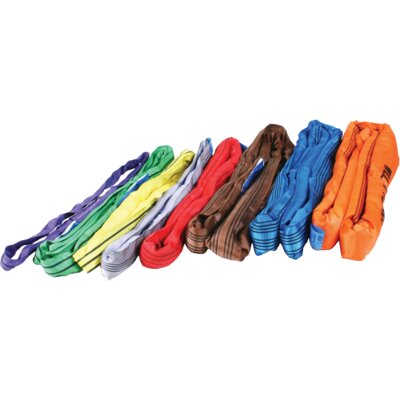 Roundsling PRS - Standard


Select a row from the table below, then click the add to quote button