Face to face training course with the experts in Lifting. Our trainer's education is backed up with a wealth of hands-on experience.

Certex provides an in-depth overview of the examination of Pedestal Cranes as required by the Lifting Operations & Lifting Equipment Regulations (LOLER / SI 2307).
Course Aim
The aim of this course is to provide an in-depth overview of the examination of Pedestal Cranes as required by the Lifting Operations and Lifting Equipment Regulations (LOLER). Additionally, the course reviews the requirements of the Provision and Use of Work Equipment Regulations (PUWER) and other relevant legislation. It also looks at the documentation required, and various inspection techniques used.
Equipment Covered:
Lattice Boom Cranes
Solid Box Boom Cranes
Hydraulic Boom Luffing
Rope Luffing
"A" Frames
Winches
Hook Blocks
Wedge and Wedge Sockets
Crane Cab, Instruments, Controls & Operations
Safety Devices – SLI, GOPS, MOPS, AOPS & Limiting Devices
Pedestal – Slew Ring, Rota bolts
Diesel & Electric Prime Movers
Sheaves
Man Riding Cranes
Crane Wire Rope Examination ISO 4309 – LEEA Accredited
It will also cover:
Your role and responsibilities as an examiner / competent person
Employers Responsibilities
Duty Holder Responsibilities
Health and safety at work act
PUWER
LOLER
BS7121
HSG221
Machinery Directive
Reports of thorough examination
Defect reporting
Proof Loading
Function Testing
Non-Destructive Testing
Rocking Motion Testing
Back Lash Inspection
Grease Sampling
Duty & Load Charts
Risk Assessments
Each course delegate will be expected to complete a theory and practical examination. If successful, a certificate will be issued. This will help the Employer to address certain legal requirements by being able to help demonstrate employee competency. A detailed course handout is also provided for future reference.
Additional Information:
DURATION
The standard course is intended to last 4 days but for an experienced Pedestal Crane Examiner who holds a valid or recently expired certificate and can demonstrate significant previous experience, a 3-day refresher can be attended. Bespoke courses can also be discussed upon application.
LOCATION
The course is generally held at our Great Yarmouth facility, however we are also able to utilise other Certex locations or hold courses at Client premises if adequate facilities are available.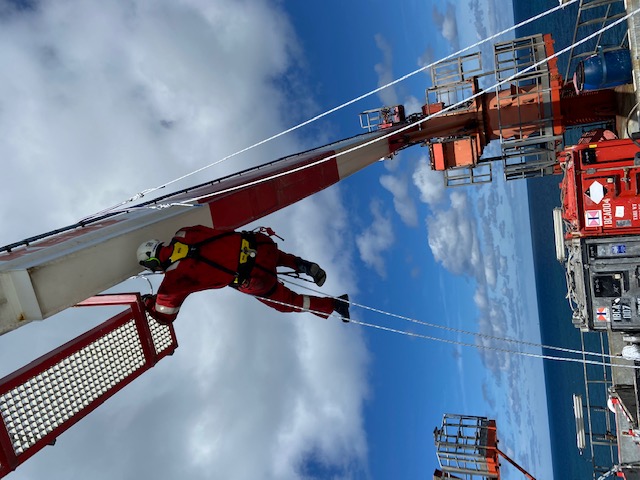 FURTHER COURSES & INFORMATION
Certex UK offers a range of standard training courses as detailed on our web site and bespoke training courses can be tailored to suit your specific needs. Many of our standard courses are LEEA certified.
For further information or to discuss your requirements in more detail, please contact our Training Team on 01493 857705 or email gytraining@certex.co.uk