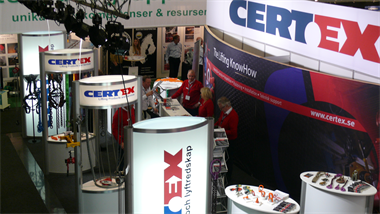 In 2017 we have taken part in the LEEA Roadshow in Sheffield, our Team from Aberdeen took part in free training seminar at the Aberdeen Exhibition and Conference Centre (AECC). We shall post dates on our news feed and here as soon as new dates are confirmed for 2018.
Our Forankra Pritchard Division will be taking part at the annual www.cvshow.com from the 24th of April 2018.

For more information please check our European website www.certex.net to see our European presence as a whole or go direct to each country website for more information on exhibitions.
Belgium: www.mennensbelgium.be
Denmark: www.certex.dk & www.harbo.dk
Estonia: www.certex.ee
Finland: www.certex.fi
France: www.traclev.com
Germany: www.certex.de
Latvia: www.certex.lv
Lithuania: www.certex.lt
Netherlands: www.mennens.nl
Norway: www.certex.no & www.haug.no
Russia: www.certex.ru
Spain: www.cyesa.com
Sweden: www.certex.se
Lifting Solutions HQ: http://www.axinter.com/what-we-do/lifting-solutions/