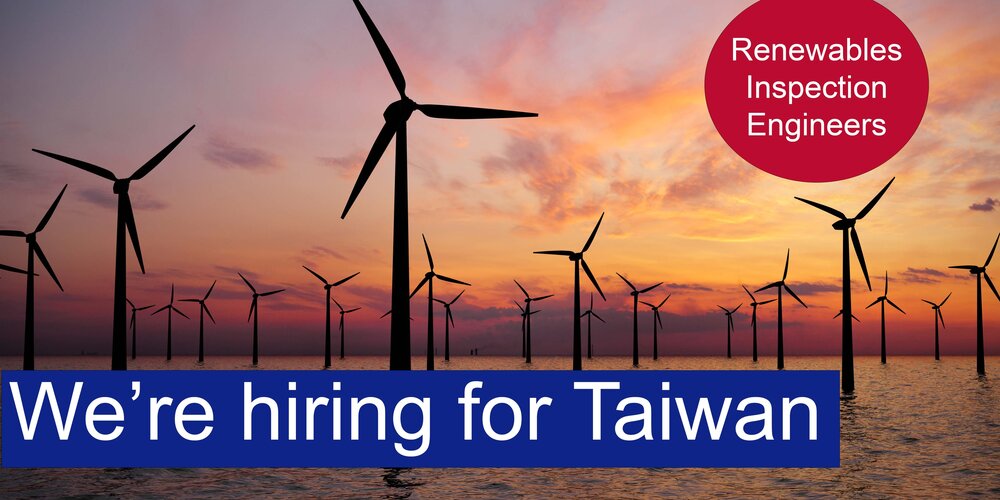 We have an exciting opportunity for an experienced Renewables Inspection Engineer, to complete LOLER, PUWER & PSSR Inspections in the Wind Energy Sector, Taiwan.
The successful applicant will be part of our Lifting Solutions Group, the largest lifting organisation in Europe, comprising of 22 companies with over 100 locations Worldwide including the USA, Australia, and Taiwan.
The role will involve Statutory Inspections of Equipment contained in Wind Turbines Onshore / Offshore and applicants must be prepared to travel to Taiwan on a rotational basis.
Personal Skills:
The candidate should be confident, customer focused, able to communicate effectively at all levels and have a strong eye for detail
Must be physically fit, hardworking, and motivated
Willing to learn new skills and continually develop
Excellent written, verbal and communication skills
Good IT skills
Ability to work alone
Strong decision maker
Must remain impartial and independent at all times in accordance with ISO 17020
Understanding of tools and instruments for testing and inspection
Education & Qualifications:
GWO Training
OGUK Medical & Chester Step test
LEEA Qualified or equivalent
Mechanical or Electrical Engineering background - Preferred
OEM Training or equivalent on Service Lifts - Preferred
PSSR training in the examination of minor and intermediate systems contained in wind turbines - Preferred
Trained in Davit Crane Inspections / Maintenance - Preferred
Trained in Electric Hoists Inspection / Maintenance - Preferred
Trained in Turbine Mounted Safety Equipment Inspection
Trained in Fire Extinguisher Servicing - Preferred
Technical Knowledge:
Detailed understanding of inspection processes on wind turbine equipment
Excellent knowledge of the type of defects that may occur during equipment use, technical ability to identify such defects and an understanding of the impact that any such defects may have on the continued safe use of the equipment
Knowledge of defect acceptance criteria
Understands the mechanisms of degradation
Good working knowledge of LOLER, PUWER and PSSR
Strong knowledge of Health & Safety
Good understanding of the risk assessment process
Experience:
Previous relevant experience in the inspection of General Lifting Equipment, Manual Lifting Machines, Powered Lifting Machines, Service Lifts, PUWER Equipment, PSSR Accumulators or Pressure Relief Valves in Wind Turbine Generators
Experience of associated defect identification and the impact that defects may have on the continued safe use of the in-service equipment
Working on customers sites, onshore and offshore, in a highly regulated industry
Working to risk assessments, method statements and identifying risks
The role enjoys a competitive salary package commensurate to experience.
Please send Covering Letters and CV's to terry.hoenes@certex.co.uk
Closing date Friday 14th January 2022