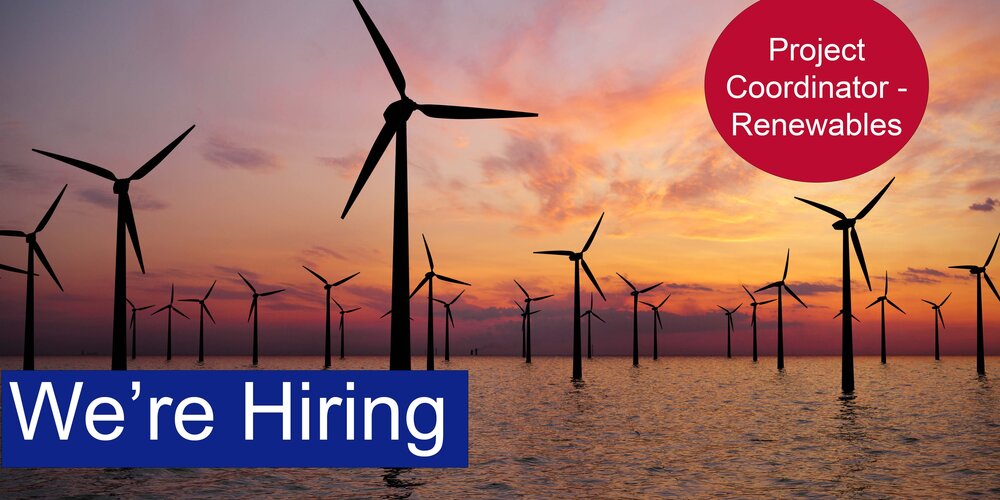 We're hiring a Project Coordinator
We have another exciting opportunity for a Project Coordinator, serving the Wind Energy Sector, based in our Great Yarmouth office.
The successful applicant will be part of our Lifting Solutions Group, the largest lifting organisation in Europe, comprising of 22 companies with over 100 locations Worldwide including the USA, Australia, and Taiwan.
The role will involve coordinating statutory inspection projects on multiple windfarms throughout the UK, Europe, and Taiwan, understanding the requirements of LOLER, PUWER and PSSR will be a distinct advantage.
Key Responsibilities:
Operational focal point for multiple Wind Farms.
Responsible for onsite operational health & Safety reporting.
Ensuring only competent personnel undertake work.
Ensuring impartial and independent in-service inspections are conducted in full compliance with best industry practice, current legislation, and the requirements of BS.EN.ISO/IEC.17020
Managing and implementing safe systems of work.
Maintaining project stock levels and ordering as required.
General support to the Renewables Division.
Personal Skills:
Hard working, enthusiastic and outstanding people skills.
Able to work well within a team, have excellent communication skills whilst having the initiative, self-motivation, and confidence to work alone.
Well organised, honest, and driven, with exceptional interpersonal skills.
Customer focused.
Able to multi-task at a high level.
Able to work calmly under pressure and thrive working towards challenging targets.
Education & Qualifications:
LEEA Qualified or Equivalent.
IOSH Managing Safely or Equivalent- Preferred
Mechanical or Electrical Engineering background - Preferred
Preferred Technical Knowledge:
Excellent technical knowledge and understanding of the requirements of in-service statutory inspections of LOLER and PUWER equipment contained in wind turbine generators.
Excellent understanding of the requirements of BS.EN.ISO/IEC.17020.
Excellent knowledge of the maintenance activities required on davit cranes, service lifts, nacelle cranes and PSSR equipment.
Excellent technical knowledge and understanding of the equipment to be inspected and the way the equipment is used.
Excellent knowledge of the type of defects that may occur during equipment use, and an understanding of the impact that any such defects may have on the continued safe use of the equipment.
Knowledge of defect acceptance criteria.
Understands the mechanisms of degradation.
Good working knowledge of LOLER, PUWER and PSSR.
Strong knowledge of Health & Safety.
Good understanding of the risk assessment process.
Key Skills:
Commercial thinking, project management skills, strong organisational abilities, as well as high attention to detail.
Ability to manage, motivate and influence work behaviours.
Excellent communication skills with the ability to confidently liaise with stakeholders at all levels of seniority.
Proficiency in Microsoft Office products including Word, Excel and Powerpoint.
Working knowledge of SAP - Preferred
Preferred Experience:
Previous relevant experience in the inspection of General Lifting Equipment, Manual Lifting Machines, Powered Lifting Machines, Service Lifts, PUWER Equipment, PSSR Accumulators or Pressure Relief Valves in Wind Turbine Generators
Experience of associated defect identification and the impact that defects may have on the continued safe use of the in-service equipment
Working on customers sites, onshore and offshore, in a highly regulated industry
Working to risk assessments, method statements and identifying risks
The role offers a competitive salary package commensurate to experience.
Please send Covering Letters and CV's to terry.hoenes@certex.co.uk
Closing date Friday 14th January 2022