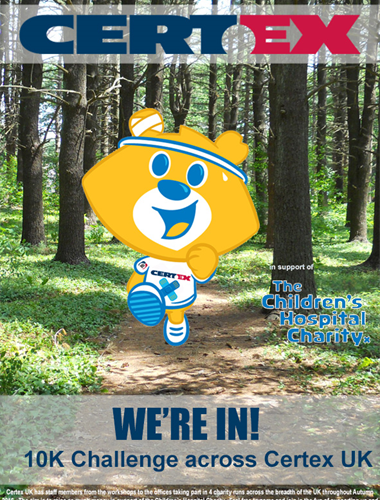 10K Challenge Across Certex (UK)
We have split into teams to see who can raise the most money for the Children's Hospital Charity! So ensure if you are to donate, you do so to the team of your choice.
The Teams are:
Certex Head Quarters Harworth

Certex Industrial Gloucester

Certex Industrial Harworth

Certex Oil and Gas Great Yarmouth

Certex Oil and Gas Scotland

Certex Renewables Great Yarmouth
To find out more about the charity runs click on one of the teams above and it will take you to the unique donation page for that team. To find out more about our chosen charity click on the image above and a link to The Children's Hospital Charity web page will open.
Feel free to come and join in the fun of supporting us and in particular our chosen charities. You can make donations online on this page or at any one of our branches.
Certex offers comprehensive solutions within lifting, steel wire ropes and related services. Our solutions are found throughout the UK; at construction sites, on cranes, in steel making as well as within the energy- and manufacturing industries.In addition to world class brands of lifting and suspending equipment, we manufacture high specification lifting products at our specialist facilities in Scotland and England. We also offer testing solutions, inspections and certification, technical support, training and maintenance.Founded in 1986, Certex today has annual sales of GBP 14 million and 125 employees at five locations in the UK. Together with our sister companies throughout Europe, we are part of Axel Johnson International Lifting Solutions.
Manichand Soogumbur
Marketing Manager
Unit C1 Harworth Industrial Estate, Bryans Close, Doncaster, DN11 8RY
+44 (0) 1302 756054
+44 (0) 7552277824
http://www.certex.co.uk