Properties:
- Rotations resistant wire rope with extremely high breaking force.
- Very good fatigue properties.
- Very high resistance against flattening and wear.
- Especially suitable for multiple layer spooling.
ISO 4309 Rope Category No: All Diameters RCN.23-2.
Rope construction: Rotation resistant rope with compacted outer and inner strands.
Standard: EN 12385-4
Overhead cranes

Tower crane

Mobile crane

Crawler crane

Piling crane

Truck crane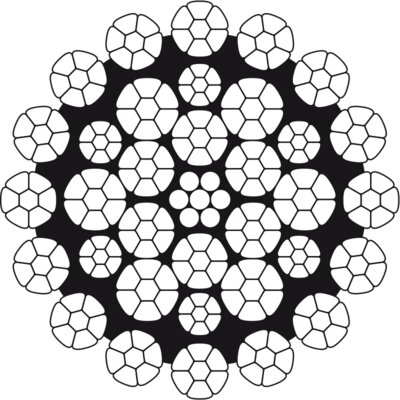 Currently this product cannot be added to an online quote. Please contact us directly for enquires.
Art No

Wire rope

Steel

Min breaking strenght

Column1

Weight

Galvanized, right hand langs lay

Ø

area

1960 N/mm2

2160 N/mm2

kg/

1960 N/mm2

mm

mm2

kN

tons

kN

tons

100m

01.G37VTP080G

8

37

61,1

6,2

62,7

6,4

31

01.G37VTP090G

9

47

77,3

7,9

79,4

8,1

40

01.G37VTP100G

10

58

95,4

9,7

98,0

10,0

49

01.G37VTP110G

11

70

115,5

11,8

118,6

12,1

59

01.G37VTP120G

12

83

137,4

14,0

141,2

14,4

71

01.G37VTP127G

12,7

93

153,9

15,7

158,1

16,1

79

01.G37VTP130G

13

98

161,3

16,4

165,7

16,9

83

01.G37VTP140G

14

114

187,0

19,1

192,2

19,6

96

01.G37VTP150G

15

130

214,7

21,9

220,6

22,5

110

01.G37VTP160G

16

148

244,3

24,9

251,0

25,6

125

01.G37VTP170G

17

168

275,8

28,1

283,3

28,9

142

01.G37VTP180G

18

188

309,2

31,5

317,7

32,4

159

01.G37VTP190G

19

209

344,5

35,1

353,9

36,1

177

01.G37VTP200G

20

232

381,7

38,9

392,2

40,0

196

01.G37VTP210G

21

256

420,8

42,9

432,4

44,1

216

01.G37VTP220G

22

281

461,9

47,1

474,5

48,4

237

01.G37VTP224G

22,4

286

437,6

48,3

495,3

50,5

245

01.G37VTP240G

24

334

549,7

56,0

564,7

57,5

282

01.G37VTP250G

25

362

596,4

60,8

612,8

62,4

306

01.G37VTP254G

25,4

374

615,7

62,7

632,5

64,5

316

01.G37VTP260G

26

392

645,1

65,7

662,8

67,5

331

01.G37VTP270G

27

423

695,7

70,9

714,7

72,8

357

01.G37VTP280G

28

454

748,2

76,2

768,7

78,3

384

01.G37VTP286G

28,6

474

780,6

79,5

802,0

81,7

401

01.G37VTP290G

29

487

802,6

81,8

824,5

84,0

412

01.G37VTP300G

30

522

858,9

87,5

882,4

89,9

441

01.G37VTP310G

31

557

917,1

93,4

942,2

96,0

471

01.G37VTP320G

32

594

977,2

99,6

1.004

102,3

502

01.G37VTP330G

33

631

1.039

105,9

1.068

108,8

533

01.G37VTP340G

34

670

1.103

112,4

1.133

115,5

566

01.G37VTP350G

35

710

1.169

119,1

1.201

122,4

600

01.G37VTP360G

36

751

1.237

126,0

1.271

129,5

635

01.G37VTP380G

38

837

1.378

140,4

1.416

144,3

707

01.G37VTP400G

40

927

1.527

155,6

1.569

159,8

784

01.G37VTP410G

41

974

1.604

163,5

1.648

167,9

823

01.G37VTP420G

42

1.022

1.683

171,5

1.729

176,2

864

01.G37VTP430G

43

1.072

1.764

179,8

1.813

184,7

906

01.G37VTP440G

44

1.122

1.848

188,3

1.898

193,4

948

01.G37VTP450G

45

1.174

1.932

196,9

1.985

202,3

992

01.G37VTP480G

48

1.335

2.199

224,0

2.259

230,2

1.129

01.G37VTP500G

50

1.449

2.386

243,1

2.451

249,8

1.225

01.G37VTP520G

52

1.567

2.580

262,9

2.651

270,1

1.324
Number of wires, discard criteria and technical data
| | | | | | | | | | | | |
| --- | --- | --- | --- | --- | --- | --- | --- | --- | --- | --- | --- |
| Diameter | Total number | Outer strands | Number of wire break at discard | | | | Average | | | Elasticity | Elongation |
| Ø | of wires | number of wires | Regular lay | | Lang´s lay | | fill | spin | weight | modulus | under 3% |
| mm | | | 6 x d | 30 x d | 6 x d | 30 x d | factor | factor | factor | (kgf/mm²) | of MBL |
| 8-52 | 245 | 112 | - | - | 5 | 10 | 0,74 | 0,81 | 0,88 | 11.610 | 0,150 |