Features:
- Very high breaking strength.
- Very stabile rope construction with very good fatigue properties.
- A plastic layer between inner and outer strands prevents inner wear and protects the core from corrosion.
- Very high resistance against flattening and wear.
- Specially suitable for multilayer spooling.
ISO 4309 Rope Category No: All Diameters RCN.11.
Rope construction: 10 strand rope with a plastic layer between the steel core and the compacted outer strands.
Standard: EN 12385-4
Overhead cranes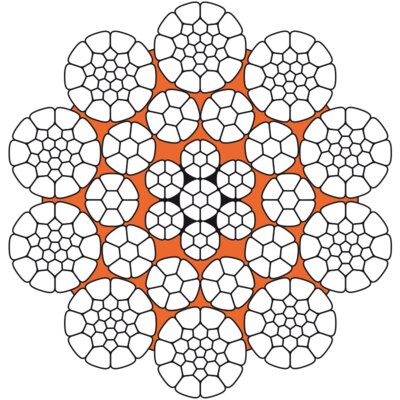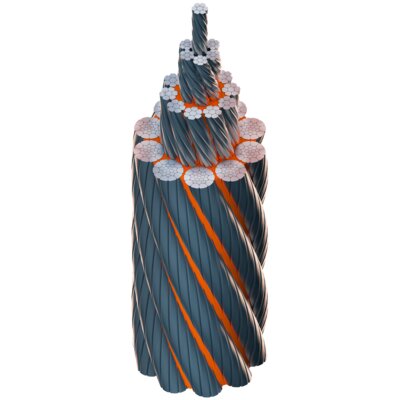 Currently this product cannot be added to an online quote. Please contact us directly for enquires.
Art No

Wire Rope

Steel

Minimum breaking strength

Weight

Galvanized, right hand ordinary lay

Ø

area

1960 N/mm2

2160 N/mm2

kg/

1960 N/mm2

mm

mm2

kN

tons

kN

tons

100m

01.G13VT1060G

6

21

34,9

3,6

38,0

3,9

18

01.G13VT1070G

7

28

47,5

4,8

51,7

5,3

24

01.G13VT1080G

8

37

62,0

6,3

67,6

6,9

32

01.G13VT1090G

9

47

78,5

8

85,5

8,7

40

01.G13VT1100G

10

57

96,9

9,9

105,6

10,8

49

01.G13VT1110G

11

70

117,3

12

127,7

13,0

60

01.G13VT1120G

12

83

139,5

14,2

152,0

15,5

71

01.G13VT1130G

13

97

163,8

15,9

178,4

18,2

84

01.G13VT1140G

14

113

189,9

16,7

206,9

21,1

97

01.G13VT1150G

15

129

218,0

19,4

237,5

24,2

111

01.G13VT1160G

16

147

248,1

22,2

270,2

27,6

127

01.G13VT1170G

17

166

280,1

25,3

305,1

31,1

143

01.G13VT1180G

18

186

314,0

28,5

342,0

34,9

160

01.G13VT1190G

19

208

349,8

32

381,0

38,9

179

01.G13VT1200G

20

230

387,6

35,6

422,2

43,1

198

01.G13VT1210G

21

254

427,4

39,5

465,5

47,5

218

01.G13VT1220G

22

278

469,0

43,6

510,9

52,1

239

01.G13VT1230G

23

304

512,6

47,8

558,4

56,9

262

01.G13VT1240G

24

331

558,2

49,5

608,0

62,0

285

01.G13VT1250G

25

359

605,7

52,2

659,7

67,3

309

01.G13VT1260G

26

389

655,1

56,9

713,5

72,8

334

01.G13VT1270G

27

419

706,5

61,7

769,5

78,5

360

01.G13VT1280G

28

451

759,8

63,7

827,5

84,4

388

01.G13VT1290G

29

484

815,0

66,8

887,7

90,5

416

01.G13VT1300G

30

517

872,2

72

950,0

96,9

445

01.G13VT1310G

31

552

931,3

1.014

103,4

475

01.G13VT1320G

32

589

992,3

80,8

1.081

110,2

506

01.G13VT1330G

33

626

1.055

83

1.149

117,2

538

01.G13VT1340G

34

665

1.120

88,9

1.220

124,4

572
| | | | | | | | | | | | |
| --- | --- | --- | --- | --- | --- | --- | --- | --- | --- | --- | --- |
| Diameter | Total number | Outer strands | Number of wire break at discard | | | | Average | | | Elasticity | Elongation |
| Ø | of wires | number of wires | Regular lay | | Lang´s lay | | fill | spin | weight | modulus | under 3% |
| mm | | | 6 x d | 30 x d | 6 x d | 30 x d | factor | factor | factor | (kgf/mm²) | of MBL |
| 8-42 | 327 | 208 | 18 | 35 | 9 | 18 | 0,61 | 0,89 | 0,92 | 12250 | 0,290 |
| 43-48 | 367 | 248 | 21 | 42 | 10 | 21 | 0,61 | 0,89 | 0,92 | 12250 | 0,290 |
| 49-60 | 407 | 288 | 24 | 48 | 12 | 24 | 0,61 | 0,89 | 0,92 | 12250 | 0,290 |