All Kuplex chain meets the dimensional requirements of BS EN 818-2 and ISO 3076. It is marked Kuplex 8 or 10 at each twentieth link or 1 metre whichever is the lesser distance.

Single link samples are taken from a lot size of 200m and bent to a minimum deflection f, as specified in the table above. Following removal of the force, the link is examined by a competent person. The link has to withstand the specified deflection for that diameter without any visible defects.
 
Tensile Test
Samples of chain as specified above, and in the finished condition, are subjected to a static tensile test and have to meet the minimum breaking force requirements as stated in the adjacent table, with a total ultimate elongation of not less than 20%.
 
Parsons Chain Routine Component Sampling
All Kuplex components are routinely verified with tensile and fatigue testing. This is a Parsons Chain company internal specification, above and beyond any current National or International Standards requirement.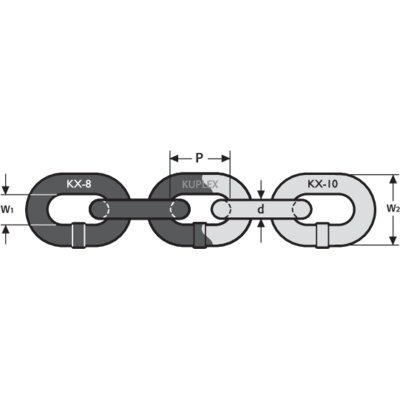 Select a row from the table below, then click the add to quote button
Download CAD
Download CAD by choosing the desired product from the table above and the format from the menu below. Click "Get CAD" and after the load reaches 100% you can click on the download icon to download it. Please note that CAD drawings are only available if the icon at the right side of the table above is colored and not grayed out.
To download CAD files, you must provide a valid e-mail address
Test Requirements and Working Load Limits - Kuplex Grade 8 Chain and Components
| | | | | | | |
| --- | --- | --- | --- | --- | --- | --- |
| Size | Breaking force min | Manufacturing proof force | Working load limit | Mean stress at breaking force N/mm2 Factor 4 | Mean stress at proof force N/mm2 Factor 2.5 | Mean stress at WLL Factor 1 |
| mm | kN | kN | Tonnes | | | |
| 7 | 61,6 | 38,5 | 1,5 | 800 | 500 | 200 |
| 7 | 61.6 | 38.5 | 1.5 | | | |
| 8 | 80,6 | 50,3 | 2 | | | |
| 10 | 126 | 78.5 | 3.15 | | | |
| 13 | 214 | 133 | 5.3 | | | |
| 16 | 322 | 201 | 8 | | | |
| 19 | 454 | 284 | 11.2 | | | |
| 23 | 666 | 415 | 16 | | | |
| 26 | 850 | 531 | 21.2 | | | |
| 32 | 1,290 | 804 | 31.5 | | | |
| KUPLEX GRADE 8 CHAIN IS COLOUR CODED BLACK | | | | | | |
Test Requirements and Working Load Limits - Kuplex Grade 10 Chain and Components
| | | | | | | |
| --- | --- | --- | --- | --- | --- | --- |
| Size | Breaking force min. | Manufacturing proof force | Working load limit | Mean stress at breaking force N/mm2 Factor 4 | Mean stress at proof force N/mm2 Factor 2.5 | Mean stress at WLL Factor 1 |
| mm | kN | kN | Tonnes | | | |
| 7 | 77 | 49 | 2 | 1000 | 625 | 250 |
| 10 | 158 | 98 | 4 | | | |
| 13 | 266 | 166 | 6.7 | | | |
| 16 | 402 | 251 | 10 | | | |
| 19 | 567 | 354 | 14 | | | |
| 23 | 831 | 519 | 21 | | | |
| 26 | 1,062 | 664 | 27 | | | |
| 32 | 1,609 | 1,005 | 40 | | | |
| KUPLEX GRADE 10 CHAIN IS COLOUR CODED GOLD | | | | | | |