General: Lifting magnet neo lift is designed for high durability, even in the most arduous of conditions and designed for long working life with low maintenance. Updated switching design ensures safe on and off operation by using one hand only saving 40% of time on previous models. The universal design of the pole shoes allow handling of flat and round materials and increased air gap capability.
This version of NEOlift 250 is specially equipped with an extra eye for vertical lifting. For vertical manipulation capacity is cca 20% of nominal, as sliding force decreases the capacity of magnet by approximately 80%! Therefore test before vertical manipulation, Max. Workload/nominal capacity for flat material is limited to 50kg Follow instructions about thickness influencing the capacity and apply it equally.
Min. thickness of loaded material (S 235 JR [ST 37]) is 20mm.

Note: To achieve maximum lifting capacity a good low-carbon steel is required, the surface should be clean , dry and smooth and have full contact with the entire surface of the magnet.
Material: High-Energy Neodymium magnets
Marking: According to standard, CE mark with Max lifting capacity, user manual and certificate included with magnet.
Temperature range: -40 to 80°C
Finish: Painted
Standard: EN 13155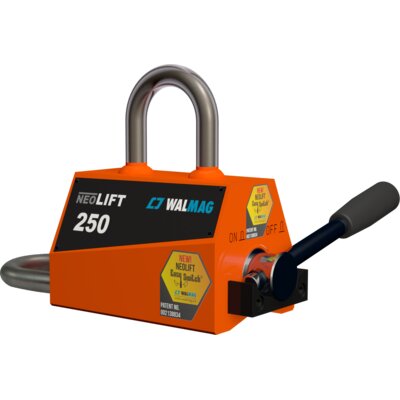 Select a row from the table below, then click the add to quote button