The performance standard for passenger transportation
All hoists for man riding applications are certified according to DIN EN 1808 and meet highest quality and safety standards.

The Tirak™ traction hoists of our X-range are the standard high performance lightweight models for all man riding applications. The X-series covers a wide range of usable workload of up to 2.000 kg.

The Tirak™ L-models have an even more compact and lightweight design, meeting highest requirements on usable workload and space restrictions. Small and light, but still powerful, they can be used for loads up to 500 kg.

Both the X- and the L-models use a single disk driver system and springloaded pressure rollers for the grip of the wire rope on the pulley.

Technical details Tirak™ X- and L-type hoists for man riding
Our Tirak™ models are available in following wire rope speed versions:
for X 300 P to X 1030 P (depending on model):
4,5 m/min, 9 m/min, 18 m/min, 4,5/9 m/min, 4,5/18 m/min, 9/18 m/min
for X 2050 P:
3 m/min, 6 m/min, 12 m/min, 18 m/min, 3/6 m/min, 3/12 m/min, 6/12 m/min

Capacity from 300 kg to 2 ton, compact and versatile
- Unlimited wire rope length
- Compact, portable
- Can be used horizontal, in an angle or vertical
- Built-in mechanical overload, in accordance with EN 1808
- Can travel with the load or be mounted in a fixed position
- Standard equipped with an emergency descent system


Note: Excl. wire (to be ordered separately).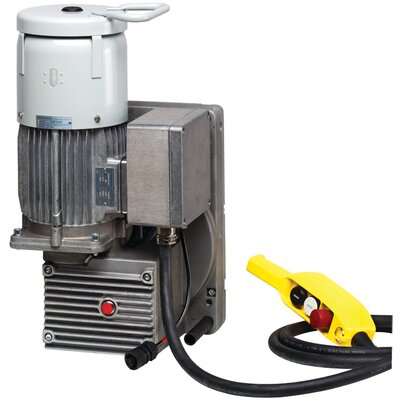 Select a row from the table below, then click the add to quote button