Design:
Forged Steel – Quenched & Tempered.
Working Load Limits shown are for in-line pull.
Recommended for straight line pull.
Fatigue rated at 11/2 times the Working Load Limit at 20,000 cycles.
Standard bolts threaded UNC.
M-279 (metric threads) available.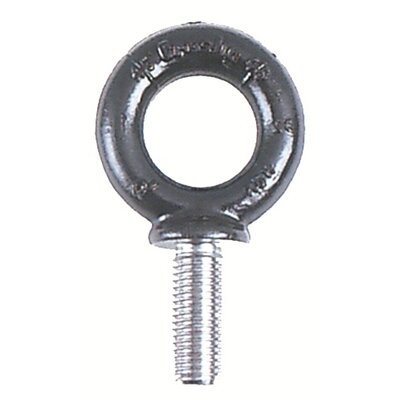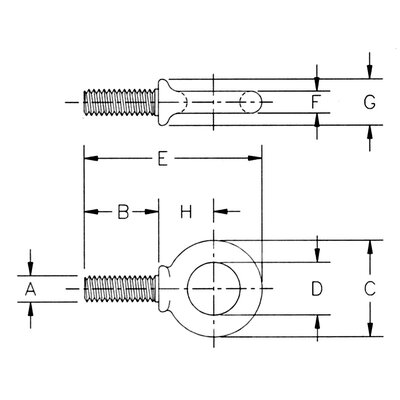 Currently this product cannot be added to an online quote. Please contact us directly for enquires.
S-279 UNC
Stock Code

Size (in)

Working
load
limit (t)

Dimensions (mm)

A

B

C

D

E

F

G

1/4 x 1

0,29

6.35

25.9

28.7

19.1

58

4.85

13.5

5/16 x 1 1/8

0,54

7.94

29.2

35.1

22.4

69.5

6.35

15

05B0597

5/8 x 1 1/4

0,7

9.53

32.3

41.1

25.4

78

7.85

17.5

05B0600

1/2 x 1 1/2

1,18

12.7

38.9

49.5

30.2

94

9.65

23.1

05B0610

5/8 x 1 3/4

2,35

15.9

45.5

60.5

35.1

113

12.7

28.7

05B0620

3/4 x 2

3,26

19.1

52

70

38,1

129

16

35.1

05B0630

7/8 x 2 1/4

4,08

22.2

58.5

82.5

44.5

149

19.1

39.6

05B0640

1 x 2 1/4

6,03

25.4

65.5

95.5

51

169

22.4

46

05B0642

1 1/4 x 3

9,52

31.8

78.5

114

63.5

202

25.4

58

1 1/2 x 3 1/2

10,8

38.1

91.5

140

76

241

31.8

70
M-279 Metric
Stock Code

Size
mm

Working
Load
Limit t

Dimensions (mm)

A

B

C

D

E

F

G

M6

0,2

6

13

28.7

19.1

58

4.9

13.5

M8

0,4

8

13

35.1

22.4

59.7

6.4

15

05B0560

M10

0,64

10

17

41.1

25.4

78

7.9

17.5

05B0570

M12

1

12

20.5

49.5

30.2

94

9.7

23.1

05B0580

M16

1,8

16

27

60.5

35.1

113

12.7

28.7

05B0590

M20

2,5

20

30

70

38.1

129

16

35.1

05B0592

M24

4

27

36

95.5

51

169

22.4

46

05B0593

M30

6

30

45

114

53.5

202

25.4

58

M36

8,5

36

54

140

76

241

31.8

70