The top swivel design on the UB500 assures the ball remains stationary if the wire line spins.
The swivel incorporates a sealed roller thrust bearing together with a grease fitting for easy lubrication.
Each ball can be equipped with the new McKissick US422 wedge socket which can be easily adjusted to fit various sizes of wire rope by changing the wedge (ensure that correct wedge is used for selected wire rope size).
Design factor 4:1
All hooks used on UB500 overhaul balls (S320, S320N and S316A) are forged from alloy steel. The S320 and S320N hooks complete with latches.
Sizes 3.6 tonnes through 9 tonnes available with Crosby's S316A "Positive Locking" SHUR-LOC® hook which may be used for lifting personnel.Meets OSHA Rule 1926.550 (g).
The S320 hook (PL latch) and 320N hook (S4320 latch), with the proper latch attached, may be used for personnel lifting when secured with proper device (Bolt, nut and pin for the PL latch; Cotter pin for the S4320 latch). Meets OSHA Rule 1926.550 (g)
Hook is New S-320N style. Replacement latch kit is S-4320. PL latch and S-4055 latch will not fit. Standard Crosby S-5 Thrust Bearing style swivels cannot be used with UB500 Overhaul balls.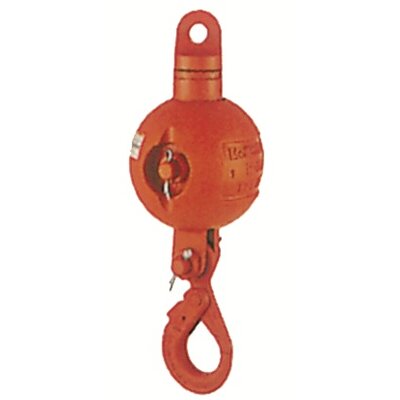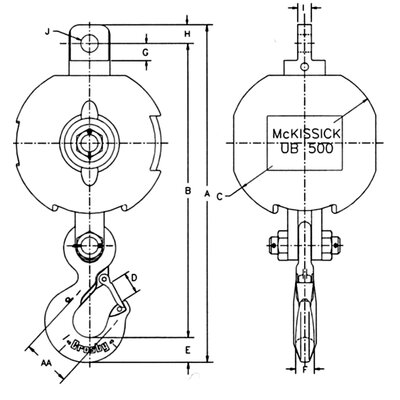 Overhaul ball S316A 320 eye Hook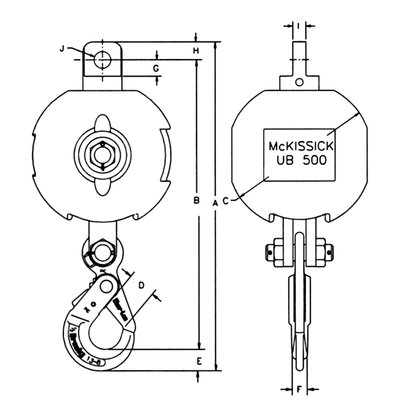 Overhaul ball S316A shurloc Hook


Currently this product cannot be added to an online quote. Please contact us directly for enquires.
| | | |
| --- | --- | --- |
| Ball Size | W.L.L. (t) | Weight (kg) |
| MB4T35 | 3.6 | 26.3 |
| MBT4T85 | 3.6 | 46.3 |
| MB4T150 | 3.6 | 73.5 |
| MB4T200 | 3.6 | 91.2 |
| MB7T85 | 6.3 | 49.4 |
| MB7T150 | 6.3 | 77.1 |
| MB7T200 | 6.3 | 95.3 |
| MB7T285 | 6.3 | 146 |
| MB10T150 | 9 | 98 |
| MB10T200 | 9 | 118 |
| MB10T285 | 9 | 166 |
| MB10T350 | 9 | 183 |
| MB10T650 | 9 | 326 |
| MB12T150 | 10.8 | 98 |
| MB12T200 | 10.8 | 117 |
| MB12T285 | 10.8 | 166 |
| MB12T350 | 10.8 | 183 |
| MB12T650 | 10.8 | 326 |
| MB15T200 | 13.5 | 135 |
| MB15T350 | 13.5 | 207 |
| MB15T650 | 13.5 | 342 |
| MB15T1150 | 13.5 | 595 |
| MB20T200 | 18 | 135 |
| MB20T350 | 18 | 207 |
| MB20T650 | 18 | 342 |
| MB20T1150 | 18 | 595 |
| MB25T350 | 22.5 | 242 |
| MB25T650 | 22.5 | 392 |
| MB25T1150 | 22.5 | 645 |
| MB30T650 | 27 | 392 |
| MB30T1150 | 27 | 645 |
UB500 Top Swivel Overhaul Balls with 320 Eye Hooks
McKissick
UB500
Model No.

Stock Code

Dimensions (mm)

AA (mm)

A

B

C

D

E

F

G

H

I

J

MB4T35

1036000

63.5

510

439

190

34.5

36.6

28.4

47.8

35.1

22.4

33.3

MBT4T85

1036009

63.5

533

461

235

34.5

36.6

28.4

47.8

35.1

22.4

33.3

MB4T150

1036027

63.5

558

487

286

34.5

36.6

28.4

47.8

35.1

22.4

33.3

MB4T200

1036036

63.5

568

496

318

34.5

36.6

28.4

47.8

35.1

22.4

33.3

MB7T85

1036045

76.0

589

517

235

41

46

35.1

47.8

35.1

22.4

33.3

MB7T150

1036054

76.0

624

543

286

41

46

35.1

47.8

35.1

22.4

33.3

MB7T200

1036072

76.0

632

551

318

41

46

35.1

47.8

35.1

22.4

33.3

MB7T285

1036081

76.0

657

576

353

41

46

35.1

47.8

35.1

22.4

33.3

MB10T150

1036090

102

799

691

286

53

57

41.1

70

51

31.8

45.2

MB10T200

1036099

102

808

700

318

53

57

41.1

70

51

31.8

45.2

MB10T285

1036117

102

832

724

353

53

57

41.1

70

51

31.8

45.2

MB10T350

1036126

102

846

738

381

53

57

41.1

70

51

31.8

45.2

MB10T650

1036135

102

884

776

456

53

57

41.1

70

51

31.8

45.2

MB12T150

1036144

102

799

691

286

53

57

41.1

70

51

31.8

45.2

MB12T200

1036153

102

808

700

318

53

57

41.1

70

51

31.8

45.2

MB12T285

1036171

102

832

724

353

53

57

41.1

70

51

31.8

45.2

MB12T350

1036180

102

846

738

381

53

57

41.1

70

51

31.8

45.2

MB12T650

1036189

102

909

776

456

53

57

41.1

70

51

31.8

45.2

MB15T200

1036198

127

955

828

318

77

76

60.5

60.5

51

31.8

45.2

MB15T350

1036207

127

986

859

381

77

76

60.5

60.5

51

31.8

45.2

MB15T650

1036216

127

1022

895

456

77

76

60.5

60.5

51

31.8

45.2

MB15T1150

1036225

127

1072

945

549

77

76

60.5

60.5

51

31.8

45.2

MB20T200

1036234

127

955

828

318

77

76

60.5

60.5

51

31.8

45.2

MB20T350

1036243

127

986

859

381

77

76

60.5

60.5

51

31.8

45.2

MB20T650

1036252

127

1022

895

456

77

76

60.5

60.5

51

31.8

45.2

MB20T1150

1036261

127

1072

945

549

77

76

60.5

60.5

51

31.8

45.2

MB25T350

1036270

165

1198

1021

381

76

92

76

84

70

44.5

45.2

MB25T650

1036279

165

1248

1086

456

76

92

76

84

70

44.5

45.2

MB25T1150

1036288

165

1297

1135

549

76

92

76

84

70

44.5

45.2

MB30T650

1036297

165

1248

1086

456

76

92

76

84

70

44.5

45.2

MB30T1150

1036306

165

1297

1135

549

76

92

76

84

70

44.5

45.2
®
McKissick
UB500
Model No.

Dimensions(mm)

A

B

C

D

E

F

G

H

I

J

MB4T35

525

462

191

47.5

29.2

23.9

47.8

35.1

22.4

33.3

MB4T85

547

484

235

47.5

29.2

23.9

47.8

35.1

22.4

33.3

MB4T150

573

509

286

47.5

29.2

23.9

47.8

35.1

22.4

33.3

MB4T200

582

519

318

47.5

29.2

23.9

47.8

35.1

22.4

33.3

MB7T85

607

541

235

53.5

42.2

29.5

47.8

35.1

22.4

33.3

MB7T150

642

566

286

53.5

42.2

29.5

47.8

35.1

22.4

33.3

MB7T200

650

575

318

53.5

42.2

29.5

47.8

35.1

22.4

33.3

MB7T285

675

600

353

53.5

42.2

29.5

47.8

35.1

22.4

33.3

MB10T150

793

691

286

63

52.3

38.1

69.8

51

31.8

45.2

MB10T200

803

700

318

63

52.3

38.1

69.8

51

31.8

45.2

MB10T285

827

724

353

63

52.3

38.1

69.8

51

31.8

45.2

MB10T350

841

738

381

63

52.3

38.1

69.8

51

31.8

45.2

MB10T650

879

776

456

63

52.3

38.1

69.8

51

31.8

45.2