General:
- Light champion snatch block as a double sheave block
- Drop forged swivel hook or swivel shackle
- Can be furnished with bronze bushings or roller bearings
- Opening feaure permits easy insertion of Wireline in both sheaves with removal of one bolt
- 408 can be furnished with S-4320 hook latch
- 432 can be furnished with dual rated Wireline sheaves
- Pressure lube fillings
- 4-1/2" - 10" models furnished with dual rated Wireline sheaves
- Fatigue rated
- All sizes are RFID EQUIPPED
- Meets or exceeds all requirements of ASME B30.26 including identification, ducility, design factor, proof load and temperature requirements. Importantly, these blocks meet other critical performance requirements cluding fatigue life and material traceability, not addressed by ASME B30.26.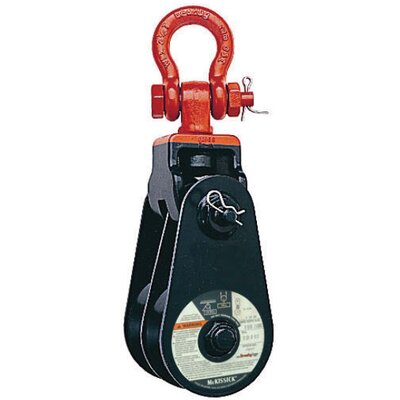 Currently this product cannot be added to an online quote. Please contact us directly for enquires.
| | | | | | | | | | |
| --- | --- | --- | --- | --- | --- | --- | --- | --- | --- |
| Sheave diameter | bearing code | stock no. | | wireline size | working load limit | weight each | | rep. sheave stock no. | rep latch stock no. |
| mm | | 408 with hook | 409 with shackle | mm | t * | 408 with hook | 409 with shackle | | |
| 114 | BB | 104023 | 105022 | 10-13 | 4 | 8.16 | 8.16 | 2000232 | 1096468 |
| 152 | BB | 104103 | 105102 | 16-19 | 12 | 20.4 | 22.7 | 460815 | 1096609 |
| 152 | RB | 104121 | 105120 | 16-19 | 12 | 20.4 | 22.7 | 472688 | 1096609 |
| 203 | BB | 104185 | 105184 | 16-19 | 12 | 24.0 | 26.3 | 461164 | 1096609 |
| 203 | RB | 104201 | 105200 | 16-19 | 12 | 24.0 | 26.3 | 473277 | 1096609 |
| 254 | BB | 104265 | 105264 | 16-19 | 12 | 31.8 | 34.0 | 461805 | 1096609 |
| 254 | RB | 104283 | 105282 | 16-19 | 12 | 31.8 | 34.0 | 473776 | 1096609 |
| 305 | BB | 194578 | 195185 | 16 | 12 | 40.8 | 43.1 | 462270 | 1096609 |
| 305 | RB | 168044 | 195229 | 16 | 12 | 40.8 | 43.1 | 474141 | 1096609 |
| 305 | BB | 104345 | 105344 | 19 | 12 | 40.8 | 43.1 | 462289 | 1096609 |
| 305 | RB | 104363 | 105362 | 19 | 12 | 40.8 | 43.1 | 474150 | 1096609 |
| 356 | BB | 194621 | 195247 | 16 | 12 | 45.4 | 47.6 | 463625 | 1096609 |
| 356 | RB | 194649 | 195265 | 16 | 12 | 45.4 | 47.6 | 474766 | 1096609 |
| 356 | BB | 104425 | 105424 | 19 | 12 | 45.4 | 47.6 | 463634 | 1096609 |
| 356 | RB | 104443 | 105442 | 19 | 12 | 45.4 | 47.6 | 474775 | 1096609 |
| * Ultimate Load is 4 times the Working Load Limit. † Available in Bronze Bushed only. ‡ May be furnished in other Wireline sizes. | | | | | | | | | |
| | | | | | | | |
| --- | --- | --- | --- | --- | --- | --- | --- |
| Sheave diameter | bearing code | stock no. | | wireline size | working load limit | weight each kg | |
| mm | | 432 with hook | 433 with shackle | mm ‡ | t * | 432 with hook | 433 with shackle |
| 203 | BB | 209624 | 209811 | 26 | 20 | 48 | 53 |
| | RB | 209642 | 209839 | | | | |
| 203 | BB | 122021 | 123020 | 28 | 20 | 48 | 53 |
| | RB | 122049 | 123048 | | | | |
| 254 | BB | 209660 | 209857 | 26 | 20 | 55 | 61 |
| | RB | 209697 | 209884 | | | | |
| 254 | BB | 122094 | 123093 | 28 | 20 | 55 | 61 |
| | RB | 122110 | 123119 | | | | |
| * Ultimate Load is 4 times the Working Load Limit. † Available in Bronze Bushed only. ‡ May be furnished in other Wireline sizes. | | | | | | | |
| | | | | | | | |
| --- | --- | --- | --- | --- | --- | --- | --- |
| Sheave diameter | bearing code | stock no. | | wireline size | working load limit | weight each kg | |
| mm | | 432 with hook | 433 with shackle | mm ‡ | t * | 432 with hook | 433 with shackle |
| 305 | BB | 209722 | 209919 | 26 | 20 | 64 | 69 |
| | RB | 209740 | 209937 | | | | |
| 305 | BB | 122021 | 123174 | 28 | 20 | 64 | 69 |
| | RB | 122049 | 123191 | | | | |
| 356 | BB | 209660 | 209955 | 26 | 20 | 86 | 92 |
| | RB | 209697 | 209973 | | | | |
| 356 | BB | 122094 | 123253 | 28 | 20 | 86 | 92 |
| | RB | 122110 | 123271 | | | | |